Fully customizable with an extensive feature set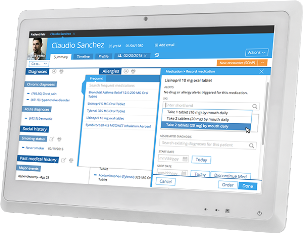 Watertight housing

CyberMed CM-CN22 has a waterproof front panel and passive cooling. The special design allows trouble-free disinfection using commercial cleaning agents. The CyberMed CM-CN22 casing is able to withstand the pouring of water without damaging the internal circuits of the komupter.
Passive cooling

CyberMed CM-CN22 has passive cooling which eliminates noise and does not introduce dust into rooms. This is especially important in intensive care units and other environments close to the patient.
Additional battery

CyberMed CM-CN22 is equipped with an internal uninterruptible power supply supplying computer power for about 1 hour, thanks to which the user can save his data and make a proper shutdown. This feature is very useful in the event of unexpected power cuts and natural disasters, network failures and other uncontrolled conditions.
Integrated CAC and IAS

The computer is equipped with CAC technology that protects essential patient information through user authentication mechanisms.
Functionalities
Authentication with the help of fingerprints

Use fingerprint authentication to secure your medical records.


Integrated VOIP

Integrated VOIP phone for patients.
RFID reader with SSO

Make sure your data is secure thanks to RFID and Imprivata OneSign (SSO).
PCAP touch screen

Computer ALL-IN-ONE CyberMed CM-CN22 screen made of tempered glass with anti-glare coating and comes standard with a touch screen.


Advantages


An efficient computer for medical applications

The Intel® Core ™ I7 processor and robust technology give users the performance they need to use advanced medical applications.
A fully configurable medical computer

Do you need more computing power, speed, or data storage? Computers CyberMed CM-CN22 can be customized in the range of i3, i5 and i7 processors, memory from 2GB to 16GB DDR3, hard drives or SSD ranging from 256GB to 1TB. We can configure a medical computer from RAID I level, add more serial ports, and even install a custom operating system image to reduce the implementation time. The device is ready to work out of the box.
Suitable for medical applications

Like most of our medical grade products, the CyberMed CM-CN22 is IP65 certified. Protected against dust and water, it can be thoroughly cleaned which reduces the spread of microorganisms. Certification 60601 ensures that personnel as well as patients are protected against radiation and electrical hazards. Thanks to passive cooling, the computer can be operated without worrying about dust, making it ideal in sterile, noise-sensitive environments.
VESA assembly ergonomics

To release even more work space and provide greater flexibility, the CyberMed CM-CN22 can be mounted on the wall using standard VESA mounting holes. When connected to a wireless mouse and keyboard, the workstation is free from cabling and does not take up much space.
EMR Ready

CyberMed CM-CN22 is fitted to standard medical vehicles. Reliable 8+ hours of battery life on medical trolleys with an additional battery gives you the opportunity to use your computer for such purposes as updating charts, analyzing patients and any critical information is at your fingertips. In addition, the CAC and RFID reader allows you to keep confidential data.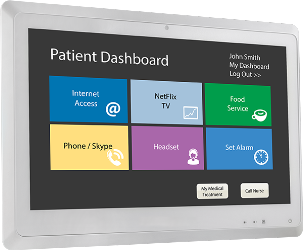 Specification
Screen
- 22-inch LED screen
- [Screen] resolution: 1920 x 1080
- Resolution [External monitor]: 3840x2160 @ 60hz (UHD 4k)
Processor
4th Generation Intel Core processors
Stunning visual effects
Enjoy the speed and tollness of transitions and visual improvements that allow you to see and feel the difference.
Multitasking x2
Easily navigate between multi-tasking applications, each processor core supports two things at once.
Extra GHz on demand
Receive an automatic speed boost when needed, processors that adapt to you.
Operating system
Windows 10, Windows 8, Windows 7, Linux
Chipset
Intel® H81 Express chipset
Memory
2 x DDR3 / 1600MHz socket 204-pin SO-DIMM up to 16GB Max
Disc
- 2 x 6Gbps Serial ATA III port
- 1 x 3Gbps Serial ATA II port (port for additional optical drive)
Graphics Card
In the standard: Intel® HD Graphics 4600.
Network connection
- Dual Gigabit Ethernet
- 1x Gigabit (Gbe) Intel L217-V Clarkville port
- 1x Gigabit (Gbe) port Realtek RTL 8111G
Sound Card
- Realtek ALC892 High Definition Audio
- Dolby Digital 5.1 surround sound
- 10 channels
- Supports multiple audio streams
I / O ports
2 X USB 3.0 port, 2 x USB 2.0
1 x RS232 port, expandable to 3 x COM ports
Display Port
HDMI - In (display mode)
HDMI - Out
FireWire 800 Mini



Side input / output ports
The magnetic flaps with rubber seals on the side of the unit are waterproof and easy to clean.
The side panel also has 2 x USB 2.0 Ports and a Smart Card reader.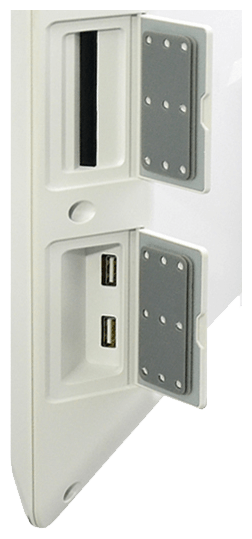 Ctrl + Alt + Delete button

Fast logout with the help of additional przysk.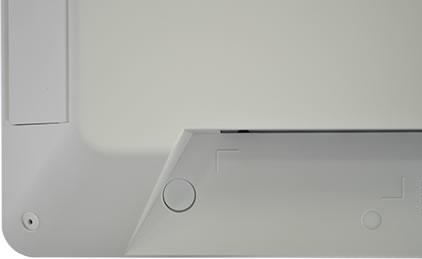 Built-in battery
Optional: built-in battery that allows you to work up to 1 hour without external power connected
Power
- 120W medical power supply
- Input: Universal 100 ~ 240V AC, 50-60Hz.
- Supports output range: DC18V-19V.
- Adapter 7.5A for Energy Star 6.0 / UL
Touchscreen
The PCAP touch screen ensures speed of operation and works with medical gloves.
Wireless access
Intel® Centrino Dual Band WiFi with Bluetooth 4.0
VESA mounting
Supports 75mm and 100mm VESA mounting
Decreases extensions
Two Mini PCI-e (1x large and 1x small)

Dimensions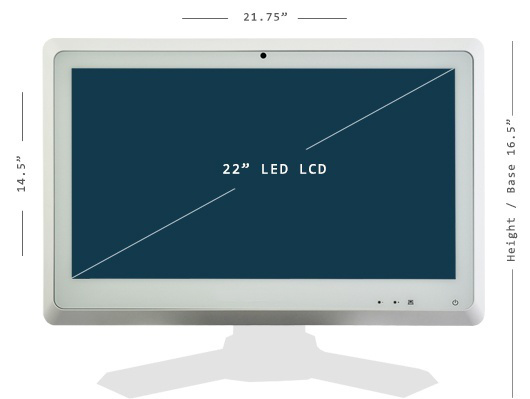 Weight
6.33kg
Swivel stand
Optional swivel base left / right rotation up to 60 °. Slope from -5 to 60 °.
Certifications
EN60601-1, UL60950 electrical safety, FCC class B, CE, Energy Star 6.1, RoHS
2




Configuration may change without warning