Fully customizable, without fanatic design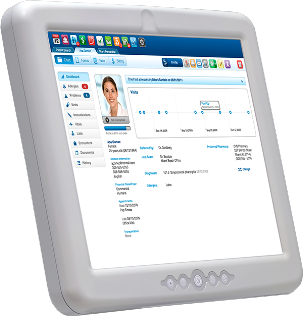 Certificate EN60601-1
CyberMed CM-MP172 is medically certified by EN 60601-1 and UL60601-1


Antibacterial housing
Antibacterial casing prevents germs from being transmitted. With IP65 sealing (front panel) and IPX1 (back of the device), the front panel of the device can be thoroughly cleaned, which minimizes the propagation of germs.

Front panel with IP65 and back IPX1 certified
Thanks to water and dust tightness, the structure allows for cleaning with antibacterial fluids.


High power and low energy consumption
The Intel Core 2 Duo processor U7500 CPU and up to 4GB RAM gives you the computing power needed in the most demanding medical applications.





Functionalities


Construction without fan
Computers with fanless design work longer without damage due to the reduced number of moving parts. In addition, these computers operate very quietly and prevent dust from getting inside the computer's case.


Wall mounting
CyberMed CM-MP172 can be mounted on the wall using standard VESA mounting holes. It can also be mounted on any medical trolley. The device is vibration and shock resistant, it can be used on medical trolleys to go to patient rooms and make graphs, or to gain access to critical data.


Advanced touch screen technology
CyberMed CM-MP172 uses state-of-the-art 5-wire resistive touchscreen technologies. This touch screen is designed for accurate work in gloves.


Created for the medical industry
CyberMed CM-MP172 is IP65-proof, securing the front panel against splashes of electronic components and allows for thorough cleaning.




Advantages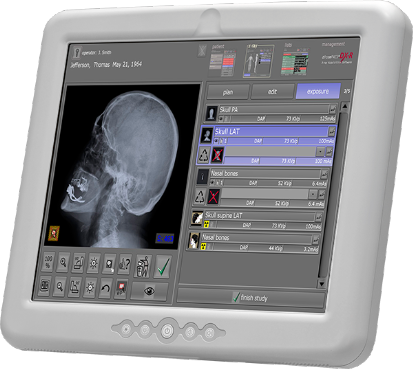 Powerful medical computer
The Intel Core 2 Duo processor U7500 CPU and up to 4GB RAM gives you the computing power needed in the most demanding medical applications.

Configurability
Do you need more computing power, speed or data storage? CM-MP172 with Intel Core ™ Duo U7500 CPU and up to 4 GB of DDR2 memory will meet all your requirements! We can install the selected operating system and powerful software on every CM-MP172.

Industrial-grade computer
Passively cooled CM-MP172 uses industrial grade components with high current and voltage tolerance on its board, which extends the life of the computer. MTBF (Mean Time Between Failures) for CyberMed medical computers, including a medical computer MP172, is 50,000 hours or about 6.5 years when using the device continuously. In addition, the CM-MP172 is without fan, which means fewer moving parts, which minimizes the likelihood of damage to moving parts and reduces the appearance of dust. It also extends the life of this medical-grade computer.





Serial ports
Many serial ports, this device is a good choice for anesthesia carts.




Center for disease control and prevention (CDC)
The CDC strongly emphasizes the use of disinfectants for use on electoral devices. Defines ways to clean electronic devices.
Materials used by CyberMed meet the CDC guidelines. The unique design features of CyberMed medical computers support deep cleaning, eliminating pollution due to blood, body fluids, as well as dirt and dust pollution.
In order to comply with the CDC guidelines, medical computers should have a deep cleaning function and antimicrobial properties that normally provide devices produced by CyberMed.





Specification


Screen
- 17-inch 4: 3 display
- Resolution: 1280x1024
- 400 rivets

Processor
Intel® Core 2 Duo U7500 1.06GHz, 10W TDP

Chipset
Intel® GME965 chipset + ICH8M, 800MHz FSB and BGA479 socket

Memory
2 Dual Channel DDR2 sockets SODIMM up to 4GB of memory

Disc
SATA up to 150 MB / s transfer speed

Network connection
2x 1GbE port, Realtek RTL8111B Gigabit Ethernet

Sound Card
- Realtek ALC286 Audio Codec sound card
- 2 + 2 watt amplifier

I / O ports
    - 6x USB 2.0 port (4 built-in, 2 ports on the motherboard with connection option)
    - 1x VGA port D8-15
    - 1x DVI port
    - Triple Audio Jack port
    - 3x Serial port
    - 2x mouse / keyboard sockets
    - 2x LAN port
    - 1x DC-In voltage port

Power
- 100 watt medical power supply.
- Input: 110 ~ 240V AC.
- Output: 12V DC, 7.0A.
- The system can support DC12V ~ 28V power input.

VESA mounting
Supports VESA 75mm and 100mm mounting


Decreases extensions
- 1x PCI 2.2 Bus
- 1x Mini-PCI socket
- 1x Mini-PCIe socket

Dimensions
16.53 "x 14.17" x 3.15 "(width x height x thickness) (Approx. Without base)

Weight
6.98kg

Security
The safety lock slot is located on the back of the housing.

Swivel stand
Optional swivel base left / right rotation up to 60 °. Slope from -5 to 60 °.

Certifications
EN60601-1, FCC Class B, CE, UL60950, RoHs, WEEE, Energy Star 5.0, EUP 1.0






Configuration may change without warning