Designed for Surgical & Clinical Review Applications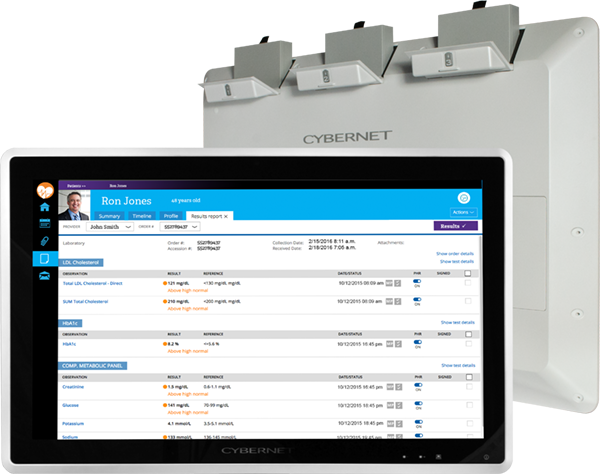 4K UHD Resolution Display


The 4K ultra high definition resolution provides crisp clear images needed for precision in surgical applications and clinical review.

6th Gen Intel Core CPU
This medical computer with 4K display come with the powerful Skylake 6th generation Intel Core i3/i5/i7 processor series so there isn't any lag time in processing movements of surgical instruments.
Stands up to Chemical Disinfection


The CyberMed NB24k has an IP65 sealed front bezel and an IPX1 back cover making it easy to clean and disinfect. It stands up to multiple daily chemical disinfections.

EN60601-1

Certified / Antimicrobial Housing


EN60601-1

certified to be safe for near patient use. Antimicrobial housing reduces the spread of germs. Ideal for operating rooms.
Battery-Powered Medical PC


Power outages are not a problem as this PC comes standard with three hot swap batteries.








Features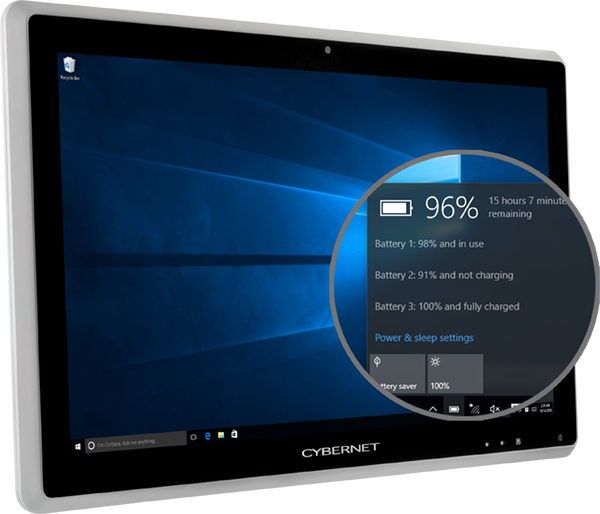 Designed for Surgical Applications with 4K UHD Display
The CyberMed NB24k offers 4K UHD images surgeons need for ultimate precision when making incisions, and fast response time so that all movements of the instruments are shown without delay. The use in ORs also calls for the multi-input capability to connect cameras and other video devices, so the NB24k comes with HDMI input, HDMI output as well as optional capture card options.


Ultra High Definition in Clinical Review
The CyberMed NB24k's 4K UHD display is also ideal for clinical review. 4K UHD relies on image enhancement technology that improves the rendering of the human tissue and structure, critical in the process of clinical review. It allows medical professionals to observe and distinguish the fine tissue structures and patterns in high detail, even if enlarged.

Powerful medical computer
The CyberMed NB24k comes with Intel's® powerful Skylake 6th Generation Core™ i3/i5/i7 CPU and solid state technology, giving power users the performance needed to run demanding surgical applications. Combined with the DDR4 RAM, which increases speed, this medical computer is ideal for surgical applications or for clinical review.
Medical Computer with UHD 4K Display & Battery Charging Station

Antimicrobial / 60601-1 Certified
Our medical cart computers have an antimicrobial housing reducing the spread of microbes. This helps stop the spread of hospital-borne illnesses and is optimal in sterile environments. These all-in-one medical cart PCs are also medically certified to meet the requirements of EN60601-1 for electrical and radiation emissions to be safe for near patient use.

Stands up to Chemical Cleanings
Medical computers are subjected to chemical cleansers to disinfect them, often multiple times a day. The CyberMed NB24k is designed to stand up to chemical cleanings without damage to its housing or electronics. Here is the list of chemical cleansers approved for use on our medical grade computers.

Battery-Powered with Three Hot Swap Batteries
Power outages are no problem for the CyberMed NB24k. This 4K UHD medical computer comes with three hot swap batteries that last a total of 16 hours. If a battery gets low, simply replace it with a fresh battery.

Designed with smart battery capacity sensor technology, this surgical display computer notifies the user with on-screen information about battery health and capacity and when to replace the batteries. This medical computer can operate on a single battery while charging the other two batteries. It can also operate without batteries when plugged directly into AC.

Wireless
The CyberMed NB24k comes with Intel Dual Band Wireless-AC 7265 802.11 AC and Bluetooth 4.0 for wireless computing.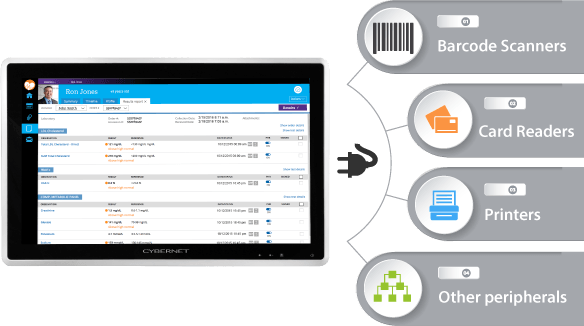 Power your Peripherals Directly from the Medical Computer
This medical computer with surgical display can power itself AND directly power peripherals such as barcode printers, scanners, card readers and more. It offers up to 60 watts of total power through a convenient DC power output jack on the I/O coastline.
Plug in peripherals needed during surgery reducing cable clutter and saving space in the OR.
Specifications


Hot-swappable Batteries     
- 3x Hot-swap battery, 86~90Watts each
- Total battery life: 16 hours


Battery Maintenance    
See our Battery Maintenance Guide on how to prevent damage to the batteries when not in use for extended periods.

Display     
- Internal Panel Resolution: 3840 x 2160
- External Display Port Resolution: 3840 x 2160 @ 60hz (UHD 4K)

Intel CPU     
6th Generation Intel® Core™ i3/i5/i7 processors with vPro technology

Operating System    
Windows 10, Windows 8.1, Windows 8, Windows 7, Linux

Chipset    
Integrated

Memory    
2 x DDR4 1866/2133MHz SO-DIMM sockets, populated up to 32GB Max

HDD Support     
- 1 x 6Gbps Serial ATA III ports
- Up to 1TB SSD

Intel HD Graphics    
Standard: Intel® HD Graphics 520

TPM Support     
2.0 Standard (optional 1.2)

Networking     
- Dual Gigabit Ethernet
- 1x Gigabit (Gbe) Intel i219V Jacksonville
- 1x Gigabit (Gbe) Realtek RTL 8111G

Audio     
- 1x Line-out
- 1x Microphone
- 2-channel 2Watt speaker facing back

I/O Ports     
CyberMed NB22 Ports - 4 X USB 3.0 ports, 2 x USB 2.0
- 1 x RS232/422/485 serial port, option to expand to 4 COM ports
- HDMI - In (Display Mode with Audio Int. Speaker)
- HDMI - Out
- 1x 4Pin DIN power Jack




Ctrl+Alt+Delete Button    
Keyboard free solution for windows authentication into corporate domain via Ctrl+Alt+Del.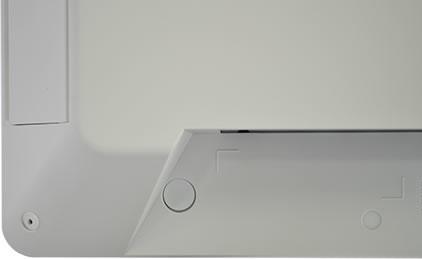 Webcam    
3.0 Megapixel Webcam (Optional)



Touch Screen    
PCAP Multi-touch Technology for super responsive performance, works with medical gloves

Wireless    
Intel® Dual Band Wireless-AC 8265 802.11 + Bluetooth 4.2

Wall Mount    
Supports both 75mm & 100mm VESA mounting holes

Expansion Slots     
- 1x mPCIe connector for PCIe module
- 1x M.2 connector for SATA interface SSD
- 1x M.2 connector for WiFI module

Dimensions     
23.50" x 14.8" x 2.10" (L, W, D)

Weight     
- 17.75 lbs without batteries and without base stand
- 20.65 lbs with 3 batteries and without base stand

Swivel Base    
Optional base stand for desktop enables left/right rotation up to 60°. Tilt from -5 to 60°.

Certifications    
EN60601-1, UL60950 electrical safety, FCC class B, CE, Energy Star 6.1, RoHS 2

Battery Type     
Lithium Ion, 8 cell

Battery Capacity     
5700mAh

Battery Nominal Output Voltage     
15.12Vdc

Multicharge Station Color     
White with Antimicrobial Agent

Input Power     
19V/135W

Battery Charge Time     
4.5 hours from 0-100%

Simultaneous Battery Charging     
Yes

Weight     
1.15kg (2.5kg with 3 batteries)

Dimensions     
93.3mm x 343.4mm x 196mm (L, W, D)

Environment     
- Operating Temperature: 0°C ~ 45°C
- Storage Temperature: 0°C ~ 85°

Relative Humidity     
- Operating: 10-85% (non-condensing)
- Storage: 10-85% (non-condensing)

LED Indicators     
- Charging Battery: Amber
- Fully Charged Battery: Green

Certifications     
FCC, CE