Medical Cart Computers with Three Hot Swap Batteries




Hot swap batteries




Three hot swap batteries with a total operating time of 16 hours are ideal for trucks without power.



Barcode scanner from a computer


Thanks to our revolutionary power output design, you can power your peripherals directly from your medical computer.

There is no need to use an electrical outlet or a battery-operated trolley.



Front cover IP65 and rear cover IPX1


The front panels of our medical carts are completely sealed, making them easy to clean and disinfect.



EN60601-1 Certified / Antibacterial casing


The EN60601-1 certificate is safe for patients nearby.

Antibacterial casing reduces the spread of germs.

Perfect for OR and emergency rooms.



Intel Core 6th Gen processor


Our medical carts offer a series of Intel Core i3 / i5 / i7 processors from the Skylake 6th generation.

This processor has up to 2.5 times more performance and 3 times longer battery life on most computers.









Features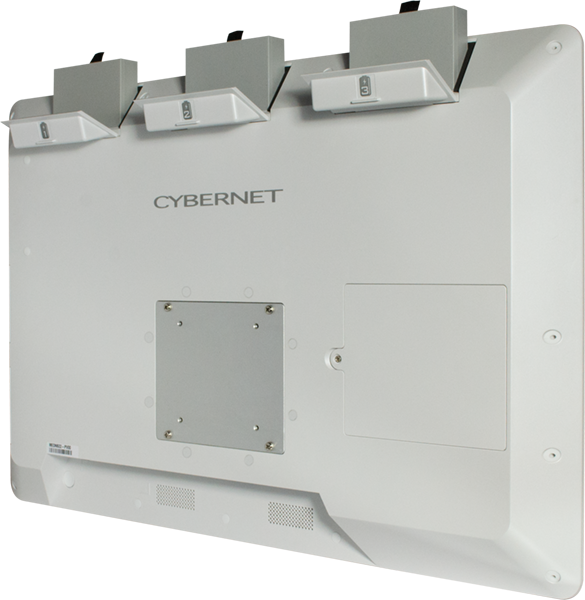 Powerful medical computers
Our medical carts are equipped with a powerful Intel® Core Skylake 6th Generation Core ™ i3 / i5 / i7 processor and semiconductor technology that provides users with the performance needed to run demanding medical applications. In combination with the DDR4 RAM, which increases speed, reduces the amount of heat generated and doubles the energy savings, these medical computers are ideal as a medical computer for wheelchairs.

Customize your medical computer with Solid State Drives from 120 GB to 1 TB and 8 GB to 32 GB DDR4 memory. In Cybernet, you can set up a medical computer with a Level I RAID array, add more serial ports, and even install a custom operating system image to reduce deployment time and free IT resources.

Our trolley medical computers CyberMed NB24 are the world's first fanless, all-in-one computers with hot swap batteries that have an Intel Core 6 generation Skylake processor.



Certificate Antimicrobial / 60601-1
Our medical wheelchair computers have an antibacterial casing that reduces the spread of microorganisms. This helps to stop the spread of hospital diseases and is optimal in sterile environments. These universal medical carts are also medically certified to meet the EN60601-1 standard for electrical and radiation emissions to ensure safety near the patient.

He is subjected to chemical cleaning
Medical computers undergo chemical cleaning to disinfect them, often several times a day. Our computers are designed to meet chemical cleaning without damaging your medical computer. Here is a list of chemical cleaners approved for use in our medical grade computers.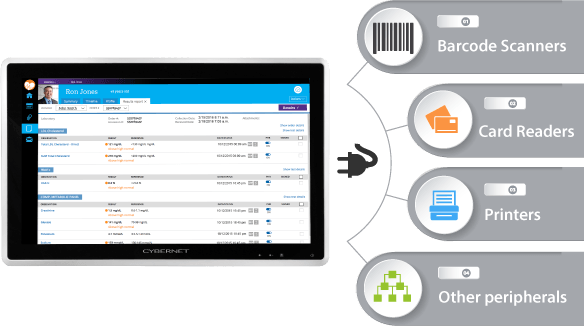 Supply peripherals directly from the medical computer
Our computers with medical trolleys are designed as a standalone, all-in-one mobile computer that can power and directly power peripherals such as barcode printers, scanners, card readers and more. Both models offer up to 40 watts of total power thanks to a convenient DC output socket on the I / O shoreline.

CyberMed NB24 can supply a single output power of 5V / 9V / 12V / 20V / 24V DC with a maximum of 40 watts peak, 26 watts maintained.

Enjoy the freedom to use your shopping cart, computer and peripherals without connecting.

They are the only medical computers currently available on the market that offer a unique function of powering peripheral devices directly from the computer.

Note: Before connecting to CyberMed NB24, check the power requirements of peripherals to prevent damage or injury. Peripherals requiring over 40 watts of power should not be connected to our computer medical carts. If you have questions about devices that can be connected to these computers, contact us.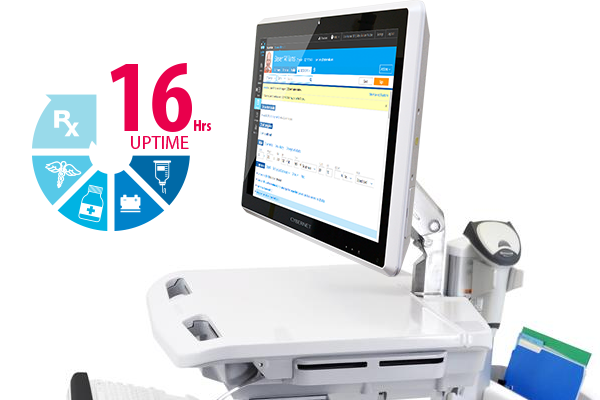 A medical computer with 16 hours of uninterrupted work
Three hot swap batteries last for 16 hours before recharging or replacing. It's more than the whole medical change. Even when using energy-intensive peripherals, batteries are enough for a full medical shift.

Medical staff will no longer waste time on frequent recharging of powered trolleys. Just insert new "hot swap" batteries into the medical computer and it's good to go through the whole change. One and it's ready!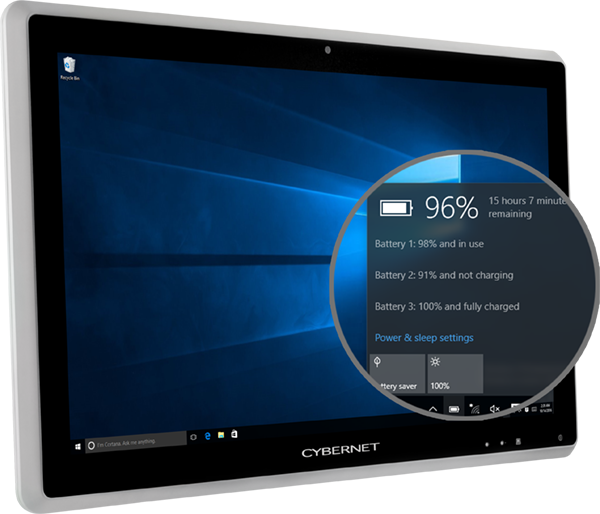 CyberMed NB24 Battery-powered medical computer Three Hot Swap batteries
Our medical carts are equipped with three "hot swap" batteries and an optional 3-track battery charging station that charges all three batteries simultaneously, even for four hours. The batteries will also be charged after connecting the computer to an electrical outlet.

Designed on the basis of intelligent battery capacity sensor technology, our medical wheelchair computers inform the user about the status and capacity information on the screen as well as when to change the batteries. These medical computers can operate on a single battery while charging the other two batteries. They can also operate without batteries when connected directly to alternating current.

Wireless
CyberMed NB24 are equipped with Intel Dual Band Wireless-AC 7265 802.11 AC and Bluetooth 4.0 for wireless data processing.

A medical computer with a battery charging station. Stop looking for an electrical outlet
Because these medical trolleys operate on three "hot swap" batteries, you never have to look for an electrical outlet to start the computer or to power the trolley. Thanks to the hot swap battery system, you can run our medical trolleys 24 hours a day, 7 days a week, without connecting them.

Multi-battery charging station
Charge up to three batteries at the same time in the charging station. Charging three batteries takes about four hours. The batteries should be charged and ready, and you never have to worry about running out of power. Just replace the old battery with CyberMed NB24 with a charged one; put the used battery in the charger and you are "ready to go" in less than a minute.
A medical computer ideal for non-powered medical trolleys.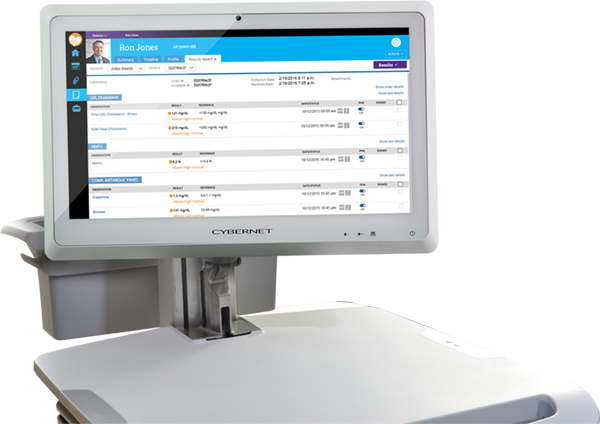 For use on a wheelchair without a drive
You do not have to pay for expensive, powered trolley. Thanks to CyberMed NB24, you can use the unpowered cart, and at the same time get the power and performance of your desktop computer.
    Three hot-swap batteries last approximately 16 hours. If necessary, simply replace the three "hot swap" batteries.

    Pop-ups on the screen indicate when the batteries are running out or you can check the indicators.

    Use the optional battery charging station and you always have ready-to-use batteries that are fully charged.

    It weighs less than a battery-operated trolley, thus reducing the consumption of medical personnel.

    Industrial-grade components guarantee that it will cope with the beatings that medical wheelchair computers take 24 hours a day, 7 days a week.


Save on operating costs
Powered trolleys are expensive. The initial cost is often 5 times the cost of the cart without power. The cost of replacing the battery in the basket is also very expensive. Factors causing downtime due to their servicing and TCO are extremely high.

Compared to the total cost of owning powered trucks, the operating and maintenance costs of our medical prams are much lower. The fact that you do not have to buy a powered trolley yourself is a significant saving.

Hot-swappable batteries are long-lasting and safe - they withstand and allow personnel to work without interruption, while you no longer spend money on expensive powered trolleys and replacement batteries.
CyberMed NB24 Battery-powered PC EMR Ready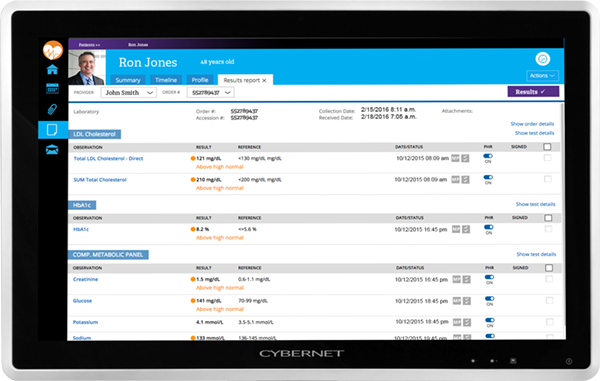 Mobile EMR ready
Our medical carts are ready to be mounted on any medical trolley. Easily move your medical trolley and computer near the facility and in patient rooms to make graphs and access important data when needed. Compatible with many EMR solutions, including Epic, Cerner, PointClickCare and others. Epic recommends especially the 24 "All in One Medical Computer" software. CyberMed NB24 is ideal for use with Epic and exceeds many Epic requirements.

MVA LED / built-in privacy filter
Our medical trolley computers are equipped with a LED with many viewing angles, so that medical personnel can better see the screen at different angles than directly in front of the computer.

Cybermed offers an optional built-in privacy filter that preserves the privacy of medical records on a medical wheelchair throughout the hospital.
CyberMed NB24 Easy access to SSDs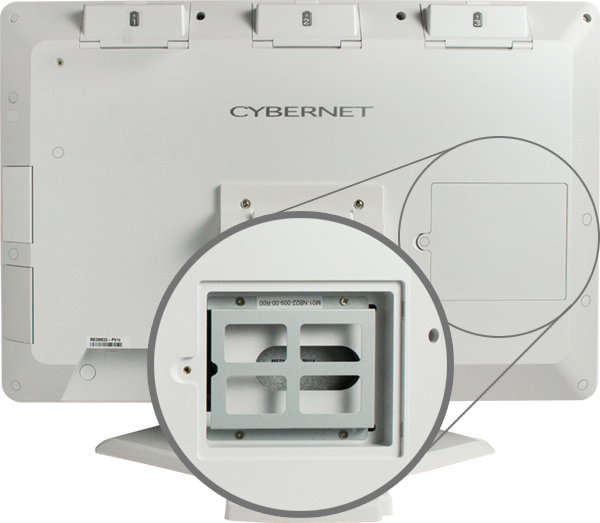 Easy access to SSDs
Remove one screw to access the hard disk / solid state drive.
Instead of undressing the whole computer to replace the hard disk, IT can remove one screw and have instant access.

CyberMed NB24 USB ports
CyberMed NB24 is equipped with many ports, including 4 USB 3.0 ports, 2 USB 2.0 ports and an RS232 / 422/485 port (with the option of expanding to four COM ports).







Specification




Batteries heat exchanged
- 3 x Hot-Swap battery, 86 ~ 90W each
- Total battery life: 16 hours

Battery maintenance
Read our Battery Maintenance Guide to learn how to prevent damage to your batteries when you are not using it for a long time.

Screen
- Internal panel resolution: 1920 x 1080
- External display port resolution: 3840 x 2160 @ 60hz (UHD 4k)

Intel processor
6th Generation Intel® Core ™ i3 / i5 / i7 processors with vPro technology

Operating system
Windows 10, Windows 8.1, Windows 8, Windows 7, Linux

chipset
Integrated

Memory
2 x DDR4 1866 / 2133MHz SO-DIMM sockets with a capacity of up to 32 GB Max

HDD support
- Serial ATA III 1 x 6 Gb / s ports
- Up to 1 TB SSD

Intel HD Graphics
Standard: Intel® HD Graphics 520

TPM support
2.0 Standard (optional 1.2)

Networking
- Dual Gigabit Ethernet
- 1x Gigabit (Gbe) Intel i219V Jacksonville
- 1x Gigabit (Gbe) Realtek RTL 8111G

Audio
- 1x line output
- 1x Microphone
- 2-channel 2 Watt loudspeaker facing backwards

I / O ports
CyberMed NB24 ports - 4 USB 3.0, 2 x USB 2.0 ports
- 1 RS232 / 422/485 serial port, the possibility of extending up to four COM ports
- HDMI - In (display mode with Audio Int. Speaker)
- HDMI - output
- 1x 4Pin DIN power jack





Ctrl + Alt + DEL
Keyless solution for authenticating Windows in the company domain using Ctrl + Alt + Del.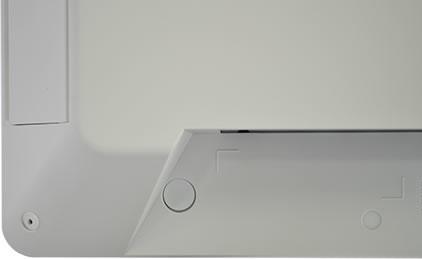 Webcam
3.0 Megapixel webcam (optional)





Touchscreen
PCAP Multi-touch technology provides super-responsive work, works with medical gloves

Wireless
Intel® Dual Band Wireless-AC 7265 802.11 AC + Bluetooth 4.0

Wall mounting
It supports VESA mounting holes with a diameter of 75 mm and 100 mm

Expansion slots
- 1x mPCIe connector for the PCIe module
- 1x M.2 connector for SATA SSD interface
- 1x M.2 connector for the WiFI module

Dimensions
- 23.50 "x 14.8" x 2.10 "(L, W, D)

Weight
- 17.75 kg without batteries and without a base
- 20.65 kg with 3 batteries and without a base

Swivel base
The optional desktop stand allows you to rotate left / right to 60 °. Tilt from -5 to 60 °.

Certifications
EN60601-1, UL60950 electrical safety, FCC class B, CE, Energy Star 6.1, RoHS 2

Multicharge station and battery specifications

Battery type
Lithium ion, 8 cells

Battery capacity
5700mAh

The nominal output voltage of the battery
15.12Vdc

Multicharge station color
White with an antimicrobial agent

Input power
19V / 135W

Battery charging time
4.5 hours from 0-100%

Simultaneous battery charging
Yes

Weight
1.15 kg (2.5 kg with 3 batteries)

Dimensions
93.3 mm x 343.4 mm x 196 mm (L, W, D)

Environment
- Working temperature: 0 ° C ~ 45 ° C
- Storage temperature: 0 ° C ~ 85 °

Relative humidity
- Operation: 10-85% (without condensation)
- Storage: 10-85% (without condensation)

LED indicators
- Charging the battery: amber
- Fully charged battery: green

Certifications
FCC, CE