SEE THE CYBERMED RX AT BARLOW RESPIRATORY HOSPITAL
We recently spent the day at Barlow Respiratory Hospital to see how their staff are using the CyberMed RX rugged medical tablet to improve patient care and the overall efficiency of their caregivers. Our medical tablets are Imprivata SSO Certified, with complete Antimicrobial exterior and are Dust and Water Resistant.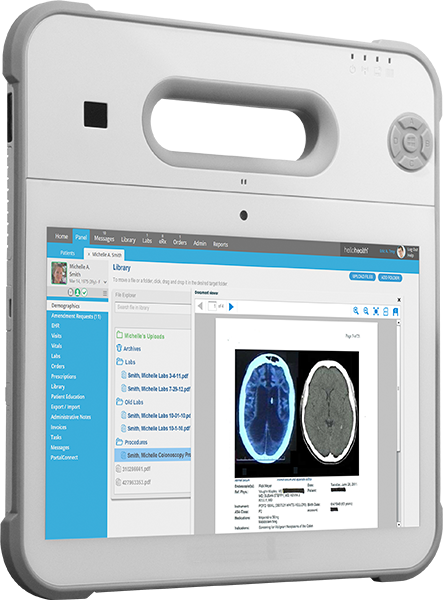 BENEFITS
Industrial Grade, Rugged Medical Grade Tablet
The CyberMed Rx is a medical grade tablet that is also a true industrial tablet. It can withstand drops of up to 5 feet and is in compliance with the MIL-STD-810G (516.6-VI. Transit drop test). The CyberMed Rx Rugged Medical Tablet is ideal for environments where it is likely to be dropped or exposed to shocks and vibration.
The CyberMed Rx is IP65 sealed. The entire unit is waterproof and dustproof, including the speakers, the ports and the fan. In addition to enhancing its durability, being completely waterproof also allows for thorough cleansing and disinfecting of the unit.
Completely Antimicrobial Exterior
Cybernet has designed and built the first medical grade tablet where the entire exterior is antimicrobial. Not only does it have an antimicrobial housing, but the Gorilla Glass is also antimicrobial, too. It is ideal for environments where preventing the spread of microbes is a priority, such as the OR, ER, ICU, laboratories or clean rooms. It is also a good choice for medical device manufacturers that need a fully antimicrobial medical tablet as part of their OEM solution.
Hot-Swappable Batteries
The CyberMed Rx has two hot-swappable batteries with a long battery life. The tablet continues to function with only one battery. It has a front and back display of available battery power.
Swap out the batteries on the fly without turning off the unit or interrupting workflow. When it use, it takes approximately two hours to recharge the batteries. It only takes one and a half hours to recharge a battery in the battery charging station.
DESIGNED TO SIMPLIFY YOUR MOBILE HEALTHCARE
Built for mobile patient healthcare, The CyberMed Rx is a true industrial grade tablet PC. It is rugged, waterproof, dustproof, can handle shocks and drops just like any other rugged tablet. However, it is also a true medical grade tablet with a completely antimicrobial exterior and all of features of a high-quality medical grade tablet.
This versatile medical grade tablet can be mounted on both medical carts and walls, and is capable of running EMR applications while telecommunicating and scanning patient documents. The CyberMed Rx is industrial grade and engineered to handle almost any stresses associated with the point of care healthcare.
The CyberMed Rx combines toughness with functionality. Easily hook up your legacy hardware to its RS232 ports.
It also offers powerful, secure mobility at the point of care with an amazing array of features. A built-in barcode scanner allows the user to scan wristbands & pharmacy items using a single hand leaving the other hand free. RFID and/or biometric reader to keep your data secure.
Powered by 5th generation Intel processors with vPro technology and long battery life, not only you satisfy the nurses & physicians but also your most demanding IT staff.