Light, powerful and rich in functionality!

Antibacterial and waterproof

Airtight antimicrobial cover prevents the spread of pathogens. The tablet can be disinfected with liquid cleaning agents without damaging it.

Certificate EN 60601-1

CyberMed CM-T10C complies with the EN 60601-1 certificate. It can be used in clinical facilities and critical care places.

Intel Quad Core processor

The tablet supports Windows in 64-bit mode. It's fast and allows you to run EMR and other medical applications at the same time. Designed for demanding medical applications.

Barcode reader

It allows you to scan patient medical bands and drug barcodes. Optionally, it is possible to mount an RFID and CAC reader to increase data security.

Fingerprint reader

Optionally, it is possible to install a fingerprint reader, which provides additional protection against unauthorized access to the tablet.


Advantages of T10C
VESA mount or docking station
Using a VESA bracket, you can mount a medical tablet on a medical cart or on a wall. We also offer a docking station, which provides an additional 2 USB ports and an additional NIC port in addition to the USB and NIC ports on the tablet itself.

Touch screen compatible with Windows 7, 8 and 10
The touch screen is compatible with Windows 7, 8 and 10. There is no need to upgrade Windows to version 10.

Competitive price
CyberMed CM-T10C is one of the most attractive medical grade tablets on the market. It is rich in features and built specifically for the medical industry.

Extended life expectancy
CyberMed uses industrial-grade components to build our computers and tablets. The CyberMed tablet was built to achieve an MTBF below 50,000 hours. Our tablet PCs are designed to work 24/7 for at least five years and require less maintenance so that they provide a faster return on investment. All CyberMed products are designed and tested for maximum reliability.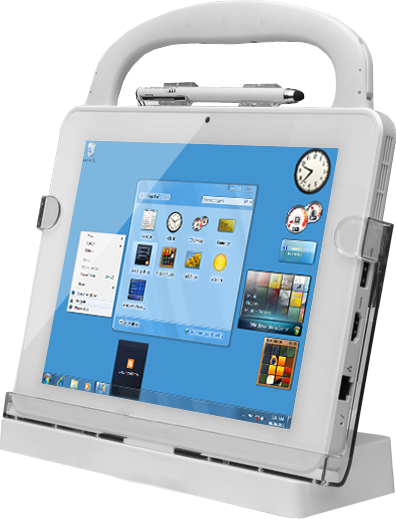 Rugged Case protection
The optional rugged casing protects the medical tablet from damage if dropped. Can be used with carrying handle.

Handle for carrying
Easy to carry a medical tablet with a removable carrying handle. A strong handle avoids dropping the device.

CAC / Smart Card Reader
The CyberMed CM-T10C medical tablet has an integrated CAC / card reader that provides strong protection for the device.

RFID reader
The integrated RFID reader can provide access control using a proximity identifier.

USB, Ethernet and HDMI ports
The tablet is equipped with USB ports (two), Ethernet port (NIC) and HDMI port. VESA Mount and Docking Station contain two additional USB ports, which makes it ideal for connecting a large number of other devices.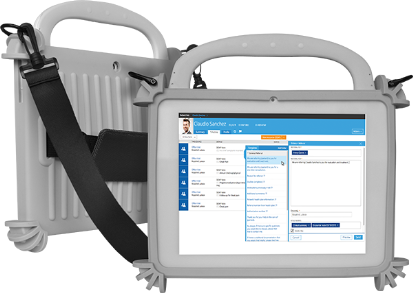 Medical tablet with a fingerprint reader created for data protection

To make sure that only authorized employees can access the data stored on the tablet, you can use a fingerprint reader. The tablet is a mobile device, therefore ensuring data security on it is a key issue. Biometric readers are more secure than ID cards and passwords, which is why thanks to the use of fingerprint readers, the IT department does not have to worry about leakage of unsecured data from the device. With an optional fingerprint reader, access is at your fingertips.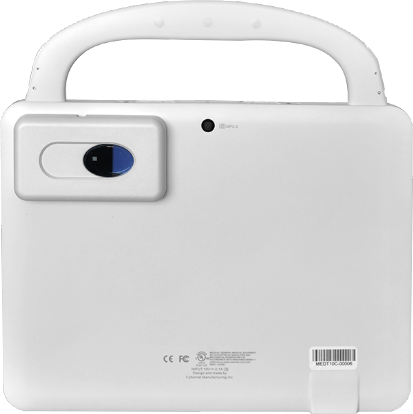 Ready for assembly on medical trolleys

Mount the medical tablet on the mobile trolley for quick access and docking. Use a medical tablet as part of a medication basket to ensure the correct dispensing of medications and tracking with the barcode scan function. Ideal for patient care systems or support for living objects, a medical tablet mounted on a medical trolley can track and monitor patients. Our medical tablets can also be used with EMR software and can track patients from the moment they are placed in the facility until the end of treatment.